Christmas is an annual commemoration of the birth of Jesus Christ and a widely observed holiday, celebrated generally on December 25 by millions of people around the world.A feast central to the Christian liturgical year, it closes the Advent season and initiates the twelve days of Christmastide, which ends after the twelfth night. Christmas is a civil holiday in many of the world's nations, is celebrated by an increasing number of non-Christians, and is an integral part of the Christmas and holiday season.
According to religious tradition, Mary was an Israelite Jewish woman of Nazareth in Galilee and the mother of Jesus. Among her many other names and titles are the Virgin Mary or Blessed Virgin Mary, Mother of God, and Saint Mary in Western churches, Theotokos in Orthodox Christianity, and Maryam, mother of Isa in Islam. She is identified in the New Testament and in the Qur'an as the mother of Jesus through divine intervention. Christians hold her son Jesus to be Christ and God the Son Incarnate, whereas Muslims regard Jesus as the messiah and one of the most important prophets of God sent to mankind.
Mary and Messiah
by taiche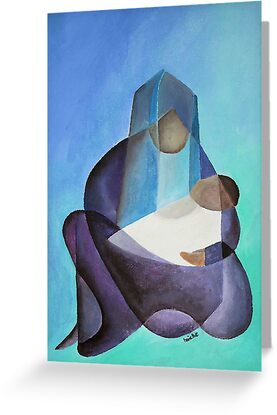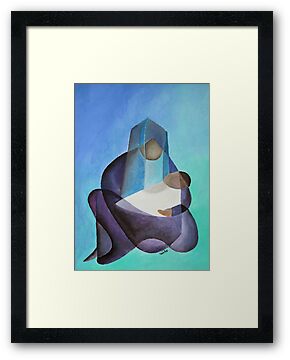 Click the links to see all of my Redbubble
Christmas Paintings,
Christmas Photography,
Christmas Greeting Cards,
Christmas Stickers,
Christmas Tees,
Christmas iPhone Cases
and
Christmas iPads
.

Custom order on via Etsy
Great, unique, affordable and customizable gifts and gift ideas for all ages and budgets are available in taiche's Zazzle store. Whether you're shopping on-line for your husband, wife, mom, dad, son, daughter, grandma, grandpa, sweetheart or a good friend....taiche has everyone and every occasion on your shopping list covered. Make gifts and gift giving extra special: personalize any of my images with text and create the perfect gift for every person every time.
Original paintings by taiche come in so many different forms and styles that you are not going to have much difficulty finding the perfect gift or artwork to compliment your décor.

Mary and Messiah Pillow
by
taiche
Find more Christmas Pillows at
Zazzle
Mary and Messiah Stamp
by
taiche
Customize stamp
designs on zazzle.com
Mary and Messiah Candy Jar
by
taiche
Browse more
Christmas Candy Jars
Mary and Messiah Necklace
by
taiche
Look at other Christmas Necklaces at
zazzle.com
item: 46994

Vintage Christmas - christmas, santa claus, xmas, vintage, merry christmas, nostalgic, holiday Greeting Card$10.49

item: 47075

Merry Christmas - christmas, santa claus, xmas, vintage, merry christmas, nostalgic, holiday Greeting Card$10.49

item: 47077

Le Chat Noel - advertising, art nouveau, black cat, cat, cats, chat noir, le chat Greeting Card$10.49

item: 47076

Christmas Wishes - christmas, santa claus, xmas, vintage, merry christmas, nostalgic, holiday Greeting Card$10.49

---

More Taiche - Vintage Posters - Christmas Products
Taiche - Vintage Posters - Christmas Apron | Taiche - Vintage Posters - Christmas Cap | Taiche - Vintage Posters - Christmas Coaster | Taiche - Vintage Posters - Christmas Coffee Gift Basket | Taiche - Vintage Posters - Christmas Desk Clock | Taiche - Vintage Posters - Christmas Framed Tile | Taiche - Vintage Posters - Christmas Greeting Card | Taiche - Vintage Posters - Christmas Iron on Heat Transfer | Taiche - Vintage Posters - Christmas Key Chain | Taiche - Vintage Posters - Christmas Light Switch Cover | Taiche - Vintage Posters - Christmas Mouse Pad | Taiche - Vintage Posters - Christmas Mug | Taiche - Vintage Posters - Christmas Ornament | Taiche - Vintage Posters - Christmas Plate | Taiche - Vintage Posters - Christmas Quilt Square | Taiche - Vintage Posters - Christmas Sweatshirt | Taiche - Vintage Posters - Christmas Tile | Taiche - Vintage Posters - Christmas Tile Napkin Holder | Taiche - Vintage Posters - Christmas Tile Pen Holder | Taiche - Vintage Posters - Christmas Tote Bag |Taiche - Vintage Posters - Christmas Trivet | Taiche - Vintage Posters - Christmas T-Shirt | Taiche - Vintage Posters - Christmas Wall Clock | Taiche - Vintage Posters - Christmas Water Bottle |