'Zebrina' is an upright, bushy biennial or short-lived, woody perennial with rounded to heart-shaped, lobed, dark green leaves and, from summer into autumn, open, funnel-shaped, lavender flowers with prominent dark purple veins. Zebrinas botanical name is Malva sylvestris 'Zebrina' but is also known as Zebra mallow and Striped mallow
Click the links to see all of my Redbubble Mallow Paintings,Mallow Photography, Mallow Greeting Cards, Mallow Stickers, Mallow Tees,.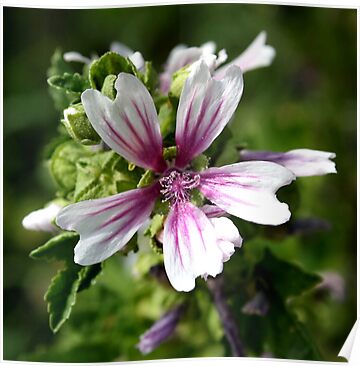 For T-Shirts Adapted from Acrylic Artwork
For Unique Jewellery Creations
For Acrylic Artwork and Photography on Gifts
For Gifts and Novelties Adapted from Acrylic Artwork
For Rottweiler Fans
My artwork, photography and design can be found in my Zazzle Galleries. Check out customizable gifts and collectables at Female Contemporary Art, Arttowear and Rottweiler Gifts
Follow links to 3DRose for customizable Photography and Acrylic Art
Custom order on via Etsy
Great, unique, affordable and customizable gifts and gift ideas for all ages and budgets are available in taiche's Zazzle store. Whether you're shopping on-line for your husband, wife, mom, dad, son, daughter, grandma, grandpa, sweetheart or a good friend....taiche has everyone and every occasion on your shopping list covered. Make gifts and gift giving extra special: personalize any of my images with text and create the perfect gift for every person every time.
Original paintings by taiche come in so many different forms and styles that you are not going to have much difficulty finding the perfect gift or artwork to compliment your décor.

Find more Zebrina Gift Boxes at
Zazzle