Sold an Original - Tulips
Although different tulip colors carry distinct meanings – yellow tulips symbolizing cheerful thoughts, white conveying forgiveness and purple representing royalty – a Turkish legend may be responsible for the red tulip's symbolism. The story goes that a prince named Farhad was love struck by a maiden named Shirin. When Farhad learned that Shirin had been killed, he was so overcome with grief that he killed himself – riding his horse over the edge of a cliff. It's said that a scarlet tulip sprang up from each droplet of his blood, giving the red tulip the meaning "perfect love."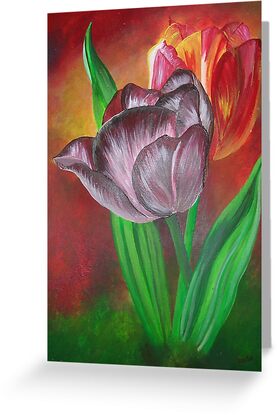 Click the icon to see the full gift range, novelties and collectables of Red and Two Tulips at Got The Gift?"

out more on Redbubble at Art To Wear
For my website.
-————————————————————————————————————————
*My Images Do Not Belong To The Public Domain. All images are copyright © taiche. All Rights Reserved. Copying, altering, displaying or redistribution of any of these images without written permission from the artist is strictly prohibited
-——————————————————————————————————————————————————
Acrylic painting on professional quality , acid free, rough 420g/m2 paper.
24×32cm, Completed 18.3.11. Sold to a private collector in Akyaka 31.3.13
-————————————————————————————————————————
Several nations have a flower or plant that embodies their history. The tulip has been a long-standing symbol of the Netherlands since the early 17th century. Tulip bulbs were sold throughout Europe, and bulbs of rare species sometimes cost more than a house in Amsterdam during that time. The bamboo plant of China resembles strength and resilience, while the peony is supposed to help bring wealth and good fortune to the carrier.
Tulip
Declaration of love; perfect lover
THE MEANING & SYMBOLISM OF
TULIP
Originally from Persia and Turkey, tulips were brought to Europe in the 16th century, where they got their common name from the Turkish word for gauze (with which turbans were wrapped) – reflecting the turban-like appearance of a tulip in full bloom. By the 17th century, the popularity of tulips, particularly in the Netherlands, became so great that the price of a single bulb soared to new heights, causing markets to crash and putting into motion "tulip mania."
Although different tulip colors carry distinct meanings – yellow tulips symbolizing cheerful thoughts, white conveying forgiveness and purple representing royalty – a Turkish legend may be responsible for the red tulip's symbolism. The story goes that a prince named Farhad was love struck by a maiden named Shirin. When Farhad learned that Shirin had been killed, he was so overcome with grief that he killed himself – riding his horse over the edge of a cliff. It's said that a scarlet tulip sprang up from each droplet of his blood, giving the red tulip the meaning "perfect love."
The 11th wedding anniversary flower, it's said that the tulip's velvety black center represents a lover's heart, darkened by the heat of passion. With the power to rival roses in their red variety and the sweet charm to express simple joy when yellow, it's no wonder that in addition to all its other symbolism, in the language of flowers, a tulip bouquet represents elegance and grace.