Since time began, honey and bees have been part of the great myths of humanity and have always been extraordinarily potent symbols.
The birth of bees:
According to the ancient Greeks, all of Nature's phenomena had divine origins. Bees were a source of great fascination, and their mysterious origins inspired the legend of Aristæus: Aristæus, the son of the god Apollo, had a beehive. But he wanted to seduce Eurydice, Orpheus' wife, who died from a snake bite because she had refused Aristæus' advances. In revenge, Orpheus destroyed Aristæus' hive. To appease the wrath of the gods, Aristæus sacrified four bulls and four heifers. From their entrails, new swarms suddenly appeared, so Aristæus was able to rebuild his hive and teach beekeeping to men. . This legend is told by Virgil, the great Latin poet, in his famous ''Georgics''. Like the ancient Greeks, he believed that bees were born spontaneously from animal corpses.
In the texts of ancient Egypt, bees were born from the tears of Râ, the Sun God. When the tears fell onto the soil, they were transformed into bees that built honeycombs and produced honey
Click the links to see all of my
Redbubble
Insect Art and Photography
Bee Art and Photography
and
Insect Tees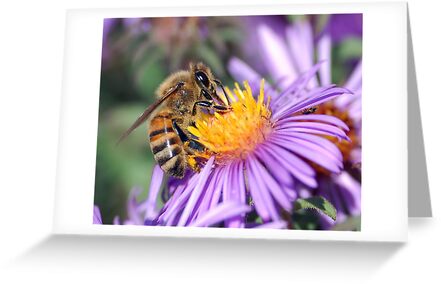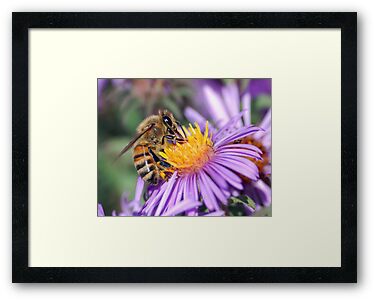 Custom order on via
Etsy
My artwork, photography and design can be found in my Zazzle Galleries. Check out customizable gifts and collectables at
Female Contemporary Art
,
Arttowear
and
Rottweiler Gifts
Follow links to
3DRose
for customizable
Photography
and
Acrylic Art
Great, unique, affordable and customizable gifts and gift ideas for all ages and budgets are available in taiche's Zazzle store. Whether you're shopping on-line for your husband, wife, mom, dad, son, daughter, grandma, grandpa, sweetheart or a good friend....taiche has everyone and every occasion on your shopping list covered. Make gifts and gift giving extra special: personalize any of my images with text and create the perfect gift for every person every time.
Original paintings by taiche come in so many different forms and styles that you are not going to have much difficulty finding the perfect gift or artwork to compliment your décor.