Black Cat Gifts, Merchandise & Products
Great Black Cat Gifts, Merchandise & Products for Black Cat lovers.
The purrfect place to find
cat gifts
for cat lovers.
Check out Taiche's selection of unique Black Cat Gift Items. Some of our most popular include T-Shirts, Signs, Christmas Ornaments, Keychains, Magnets, Pen Holders, Clocks, Tote Bags, , etc.

.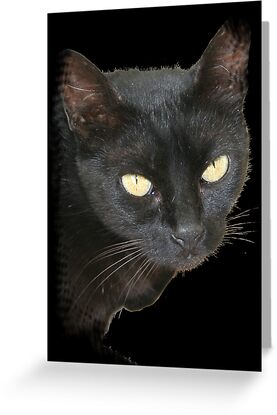 Selecting a cat lover gift could not be easier. This page will give you plenty of gift ideas for the cat lover in your life.
Cat Paintings, Cat Photography, Cat Greeting Cards, Cat Stickers, Cat Tees, and Cat T-Shirts at Arttowear
My artwork, photography and design can be found in my Zazzle Galleries.
Check out customizable gifts and collectables at Female Contemporary Art, Arttowear and Rottweiler Gifts
Follow links to 3DRose for customizable Photography and Acrylic Art


A multitude of cat lover gift items, priced to suit all budgets, that any cat lover will be delighted to receive. And what could be more convenient than choosing that special something online? No traipsing around the mall being jostled by the crowd, no weary journey home loaded down with packages.
More Taiche Photography Cats Products
Taiche Photography Cats Apron | Taiche Photography Cats Cap | Taiche Photography Cats Coaster | Taiche Photography Cats Coffee Gift Basket | Taiche Photography Cats Desk Clock | Taiche Photography Cats Framed Tile | Taiche Photography Cats Greeting Card | Taiche Photography Cats Iron on Heat Transfer | Taiche Photography Cats Key Chain |Taiche Photography Cats Light Switch Cover | Taiche Photography Cats Mouse Pad | Taiche Photography Cats Mug |Taiche Photography Cats Ornament | Taiche Photography Cats Plate | Taiche Photography Cats Quilt Square | Taiche Photography Cats Sweatshirt | Taiche Photography Cats Tile | Taiche Photography Cats Tile Napkin Holder | Taiche Photography Cats Tile Pen Holder | Taiche Photography Cats Tote Bag | Taiche Photography Cats Trivet | Taiche Photography Cats T-Shirt | Taiche Photography Cats Wall Clock | Taiche Photography Cats Water Bottle |
Taiche - Photography - Cats
Black Cat Silhouette
More Taiche Photography Cats Products
Taiche Photography Cats Apron | Taiche Photography Cats Cap | Taiche Photography Cats Coaster | Taiche Photography Cats Coffee Gift Basket | Taiche Photography Cats Desk Clock | Taiche Photography Cats Framed Tile | Taiche Photography Cats Greeting Card | Taiche Photography Cats Iron on Heat Transfer | Taiche Photography Cats Key Chain |Taiche Photography Cats Light Switch Cover | Taiche Photography Cats Mouse Pad | Taiche Photography Cats Mug |Taiche Photography Cats Ornament | Taiche Photography Cats Plate | Taiche Photography Cats Quilt Square | Taiche Photography Cats Sweatshirt | Taiche Photography Cats Tile | Taiche Photography Cats Tile Napkin Holder | Taiche Photography Cats Tile Pen Holder | Taiche Photography Cats Tote Bag | Taiche Photography Cats Trivet | Taiche Photography Cats T-Shirt | Taiche Photography Cats Wall Clock | Taiche Photography Cats Water Bottle |




Tabby Cat Portrait