Lore connecting the daffodil to not only a sign of winter's end but a lucky emblem of future prosperity is found throughout the world. In Wales, it's said if you spot the first daffodil of the season, your next 12 months will be filled with wealth, and Chinese legend has it that if a daffodil bulb is forced to bloom during the New Year, it will bring good luck to your home.
Narcissus jonquilla (Jonquil, Rush daffodil) is a bulbous flowering plant, a species of Narcissus (daffodil) that is native to southwestern Europe and northern Africa, but has naturalised throughout Europe and the United States. It bears long, narrow, rush-like leaves (hence the name "jonquil", Spanish junquillo, from the Latin juncus = "rush").
In late Spring it bears heads of up to 5 scented yellow or white flowers.
Symbolizing rebirth and new beginnings, the daffodil is virtually synonymous with spring. Though their botanic name is narcissus, daffodils are sometimes called jonquils, and in England, because of their long association with Lent, they're known as the "Lent Lily."
for more Daffodil Cards, Gifts, Novelties and Collectables
Check out more
Wild Jonquil
gifts at
Double Narcissi
is available for sale as Greeting Cards, Matted Prints, Laminated Prints, Mounted Prints, Canvas Prints, Framed Prints and Posters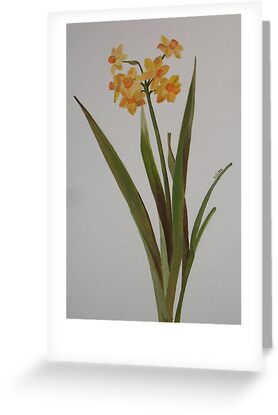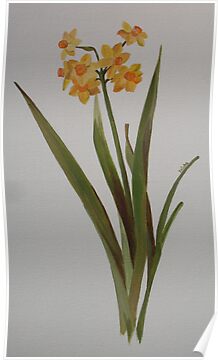 Click the links to see all of my Redbubble
Daffodil Paintings
,
Daffodil Photography
,
Daffodil Greeting Cards
,
Daffodil Stickers
,
Daffodil Tees
, and Daffodil T Shirts at
Arttowear