If you know about Le Chat Noir this parody will make a perfect christmas greeting and gift – Le Chat Noel.
Le Chat Noir – French for "The Black Cat") was a 19th-century cabaret, meaning entertainment house, in the bohemian Montmartre district of Paris. Le Chat Noir is thought to be the first modern cabaret: a nightclub where the patrons sat at tables and drank alcoholic beverages while being entertained by a variety show on stage, introduced by a master of ceremonies who interacted with people he knew at the tables. Perhaps best known now by its iconic Théophile-Alexandre Steinlen poster art, in its heyday it was a bustling nightclub that was part artist salon, part rowdy music hall. The cabaret published its own humorous journal Le Chat Noir, which survived until 1895.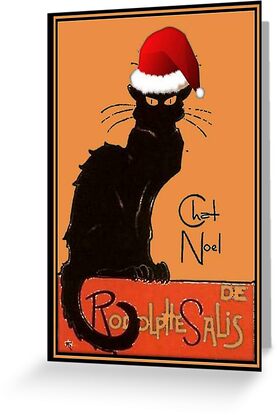 Check out my
Zazzle Store
and make your own customised Christmas Greeting Cards online.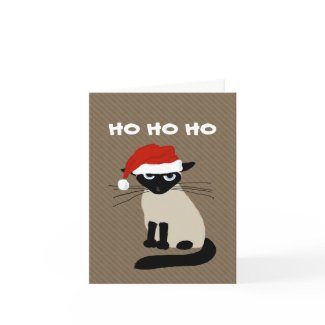 Other products by taiche
Related Le Chat Noel - advertising, art nouveau, black cat, cat, cats, chat noir, le chat Products
Le Chat Noel - advertising, art nouveau, black cat, cat, cats, chat noir, le chat Apron | Le Chat Noel - advertising, art nouveau, black cat, cat, cats, chat noir, le chat Cap | Le Chat Noel - advertising, art nouveau, black cat, cat, cats, chat noir, le chat Coaster | Le Chat Noel - advertising, art nouveau, black cat, cat, cats, chat noir, le chat Coffee Gift Basket | Le Chat Noel - advertising, art nouveau, black cat, cat, cats, chat noir, le chat Desk Clock | Le Chat Noel - advertising, art nouveau, black cat, cat, cats, chat noir, le chat Framed Tile | Le Chat Noel - advertising, art nouveau, black cat, cat, cats, chat noir, le chat Greeting Card | Le Chat Noel - advertising, art nouveau, black cat, cat, cats, chat noir, le chat Iron on Heat Transfer | Le Chat Noel - advertising, art nouveau, black cat, cat, cats, chat noir, le chat Key Chain | Le Chat Noel - advertising, art nouveau, black cat, cat, cats, chat noir, le chat Light Switch Cover | Le Chat Noel - advertising, art nouveau, black cat, cat, cats, chat noir, le chat Mouse Pad | Le Chat Noel - advertising, art nouveau, black cat, cat, cats, chat noir, le chat Mug | Le Chat Noel - advertising, art nouveau, black cat, cat, cats, chat noir, le chat Ornament | Le Chat Noel - advertising, art nouveau, black cat, cat, cats, chat noir, le chat Plate | Le Chat Noel - advertising, art nouveau, black cat, cat, cats, chat noir, le chat Quilt Square | Le Chat Noel - advertising, art nouveau, black cat, cat, cats, chat noir, le chat Sweatshirt | Le Chat Noel - advertising, art nouveau, black cat, cat, cats, chat noir, le chat Tile | Le Chat Noel - advertising, art nouveau, black cat, cat, cats, chat noir, le chat Tile Napkin Holder | Le Chat Noel - advertising, art nouveau, black cat, cat, cats, chat noir, le chat Tile Pen Holder | Le Chat Noel - advertising, art nouveau, black cat, cat, cats, chat noir, le chat Tote Bag | Le Chat Noel - advertising, art nouveau, black cat, cat, cats, chat noir, le chat Trivet | Le Chat Noel - advertising, art nouveau, black cat, cat, cats, chat noir, le chat T-Shirt | Le Chat Noel - advertising, art nouveau, black cat, cat, cats, chat noir, le chat Wall Clock | Le Chat Noel - advertising, art nouveau, black cat, cat, cats, chat noir, le chat Water Bottle |