A Lionfish is any of several species of venomous

tropical

marine fish. The lionfish is also known as the Turkey Fish, Scorpion or Fire Fish. This spiky sea-dweller will surely swim its way into your heart! The Lionfish is a curious critter indeed - it loves discovering new activities all the time. The colorful lionfish presents an attractive appearance and any coral reef lover will delight in a card or gift from this growing range by taiche.
A great gift idea for aquarium hobbyists, scuba divers and fish lovers.
Flying Fish?
Flying fish, swimming birds?
The craziest thing I've ever heard.
Look at me daddy square in the eye
And tell me that it's not a lie.
Yes my dear as sure as I'm seein'
I saw fish fly in the Caribbean.
And if the sailing is fair
And the weather is nice
I will take you down there
To the Antarctic ice.
We will stand together on the glacial rim
And I will show you how the penguins swim.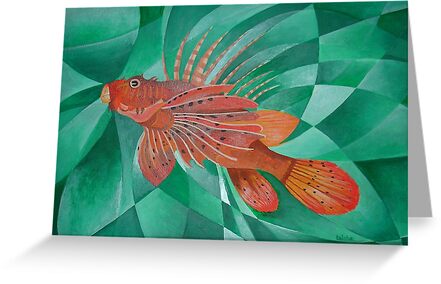 Acrylic painting on professional quality , acid free, rough 420g/m2 paper. 20×32cm,