Strictly Salsa T Shirts from Zazzle.com
Ladies Baby Doll (Fitted)
This classic baby doll is our best-selling ladies' top and will turn heads. Made with 100% super-soft ring-spun cotton, it has capped sleeves, and a tapered side-seamed contoured fit. Made by Bella. NOTE: Sizes run extremely small. Order 1 to 2 sizes larger than normal. Imported.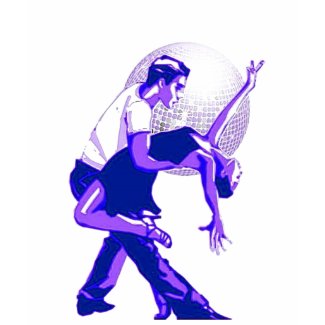 Strictly Salsa
by
taiche
Browse more
Dance T-Shirts
Footwear
Thank You so much for shopping with taiche at Zazzle. I am so pleased to know that you have found the perfect T-Shirt and hope that your gift is welcomed and treasured.It's great news to learn that you have found my Zazzle Store and I hope that you visit again soon
Salsa movements originate from the Cuban Son dancing of the 1920s, and more specifically through the beat of Son Montuno with strong influences from the dance of Danzon, Mambo, Guaguanco and other Afro-Cuban folkloric dancing. Today's Salsa dancing is a rich blend of Latin-American and Western influences; some other dance styles that have influenced today's salsa include Western and Ballroom dancing. Salsa traces a 90 year history in which there are numerous evolutionary paths, sometimes split due to political and social influences. As a result, today there are various distinct styles of Salsa dancing, namely Cuban ("Casino"), New York Style ("Mambo on 2") and Los Angeles Style ("On 1"). Other Salsa branches include Colombian Salsa ("Cali-Style") and Miami-Style Salsa.