A Morning Glory
Ipomoea
A birth flower is a flower symbol for the month of someone's birth. Morning Glories are the US birth flower for September. There is a birth flower or two that represent every month in which a person was born. They are also called birth month flower. It is a special and personalized gift to send birth flowers for someone's birthday. The flower symbolism associated with the morning glory is affection. As the name implies, morning glory flowers, which are funnel-shaped, open in the morning, allowing them to be pollinated by hummingbirds, butterflies, bees, other daytime insects and birds. The flower typically lasts for a single morning and dies in the afternoon. New flowers bloom each day. Choose one of my cards with text ot customize and personalize your own card from other photographs in store.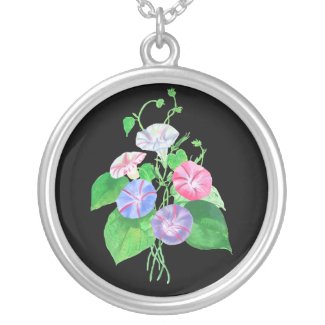 Round Sterling Silver Plate Necklace
Keep your loved ones close to your heart with this beautiful sterling silver plate necklace. Sterling silver plate chain is 18" with 3" extender and lobster claw clasp. Necklace arrives in a special black felt bag. Finished with UV resistant, waterproof, glossy coating
Charm Diameter: 1.44 inches
Depth: .19 inches
Chain Length: 18 inch with 3 inch extender
•Full-color, full-bleed printing
•Sterling Silver Plating
•UV Resistant and Waterproof
•Add Photos, Artwork and Text
•No minimum order
Sold Jewelry of
Morning Glory
to
Raaymond
11.6.11.
Thank You so much for visiting taiche at Zazzle.
I am so pleased to know that you have found the perfect Greeting Card and hope that your gift is welcomed and treasured.It's great news to learn that you have found my Zazzle Store and I hope that you visit again soon.